From Catalonia to Carneros
Quality from the Beginning
The marriage of Pedro Ferrer Bosch and Dolores Sala Ferrer united two prominent and well-established Spanish wine families. The result was Freixenet, which would eventually become the world's largest producer of méthode traditionnelle sparkling wines.
The First Sparkling Winery in Carneros
Inheriting his father's pioneering spirit, José Ferrer championed his dream of producing an exceptional sparkling wine in the new world. He ventured from Barcelona, Spain, to Sonoma, California, in the 1980's with a mission to build what would become acclaimed Gloria Ferrer Winery.
In Carneros, José found that the Mediterranean climate, rolling hills, and maritime influences, reminiscent of their native Catalonia, would be ideal for growing the two most important sparkling wine grapes—Pinot Noir and Chardonnay.
The Most Celebrated Sparkling Winemaking Team in California
90+ Ratings in the Past Five Years
Inspired by a centuries-old understanding of the balance between earth and wine, we pursue winegrowing at our Carneros vineyards with a respect for each vine and for each person in our extended family. Gloria Ferrer Caves & Vineyards is among the first wineries in California to implement the Code of Sustainable Winegrowing Practices.
We are committed to sustainability practices in these areas:
Biodiversity
Soil health
Water management
Integrated pest management
Energy conservation
Green business
In 2016, Gloria Ferrer received the official sustainable certification from the California Sustainable Winegrowing Alliance.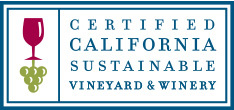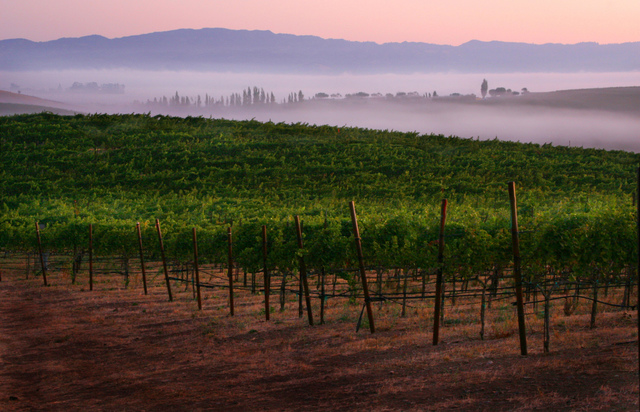 Spanning both Napa and Sonoma, the Carneros region is defined by maritime influences of the Pacific Ocean and San Francisco Bay. These bodies of water and corresponding currents create cool summer temperatures and moderate winters. A long growing season coaxes the grapes to maturity slowly and consistently with a desirable balance of sugar and acidity – the perfect setting for the craft of world-class sparkling wine.
A History of Clonal Diversity
Research and Experimentation
From 1984 to 1986, the winery had only one clone of Pinot Noir and one clone of Chardonnay planted. To produce the complex sparkling and still wines José envisioned, the vineyards required greater variety. If this were a European vineyard, the knowledge required would have been passed down through generations. The Carneros area was a new American Viticultural Area (AVA), and our team needed to manifest generations of knowledge in a single lifetime. Experimentation, rather than experience, would guide us.
Generations of Knowledge in a Single Lifetime
Through the arduous process of gathering and evaluating copious amounts of performance data, Mike Crumly, Vice President of Vineyard Operations, has meticulously matched clones to ideal sites in the vineyards fine-tuning each block to encourage a broad spectrum of flavors and aromas found in our award-winning Sonoma wines.
| Activity | Duration |
| --- | --- |
| Quarantine of Champagne clones | 4 Years |
| Plant second trial and bring to production | 4 Years |
| Analyze the resulting data | 3 Years |
| Plant expansion blocks and bring into production | 4 Years |
| Plant additional production blocks & bring into production | 4 Years |
| Produce méthode traditionnelle sparkling wines | 3 to 7 Years |
| Total duration | 21 to 25 Years |
Quarantine of Champagne clones
Plant second trial and bring to production
Analyze the resulting data
Plant expansion blocks and bring into production
Plant additional production blocks & bring into production
Produce méthode traditionnelle sparkling wines
Total duration
Our premium estate fruit is cultivated on two ranches in Carneros—Home and Circle Bar. The 207-acre Home Ranch features four unique soil types and elevations ranging from 50 to 325 feet. The 128-acre Circle Bar Ranch ranges from 50 to 280 feet and consists of 13 different blocks.
Mike and his winegrowing team perfectly match our Pinot Noir and Chardonnay heirloom vines with our diverse estate vineyard sites, rendering infinite possibilities in our finished wines. Pinot Noir is planted in the rocky, volcanic soils on the estate's highest ridges. Chardonnay is planted in the clay-rich soils on the lower sections of the estate.
"My job is to provide the winemakers with quality and variety; they become painters. But, instead of colors, they use our vines and perfectly matched terroir to create their art."
Mike Crumly, Vice President, Vineyard Operations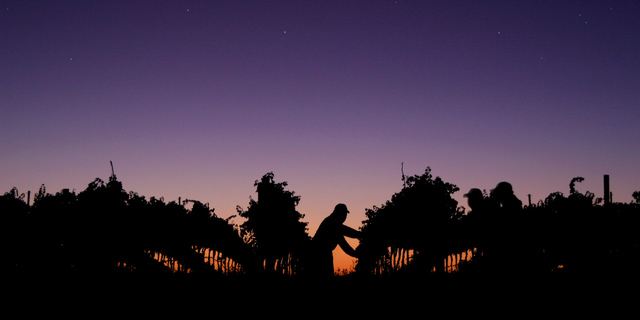 Once our winemaker, Steven Urberg, determines the grapes are at their optimal ripeness and ready to pick, we treat them with the utmost care. Committed to the quality of our grapes and respectful of the people who pick them, grapes are harvested at night to conserve human resources and ensure quality. We pick whole clusters by hand and set them in small bins to avoid bruising and oxidation. Using membrane presses to ensure the integrity, the juice is transferred into stainless steel tanks to settle for 12–24 hours.
The Sparkling Wine Process
Our Take on Méthode Traditionnelle
Our iconic house style of sparkling wine is rooted in a dynamic blend of innovation and consistency. Our winemakers use creativity, ingenuity, and a gentle hand to reveal the distinctive Sonoma Carneros terroir through our Pinot Noir-dominant sparkling wines.
"I mentally construct how the nuances in the base wine will translate into the elegance of the finished wine long before they ever end up in the bottle."