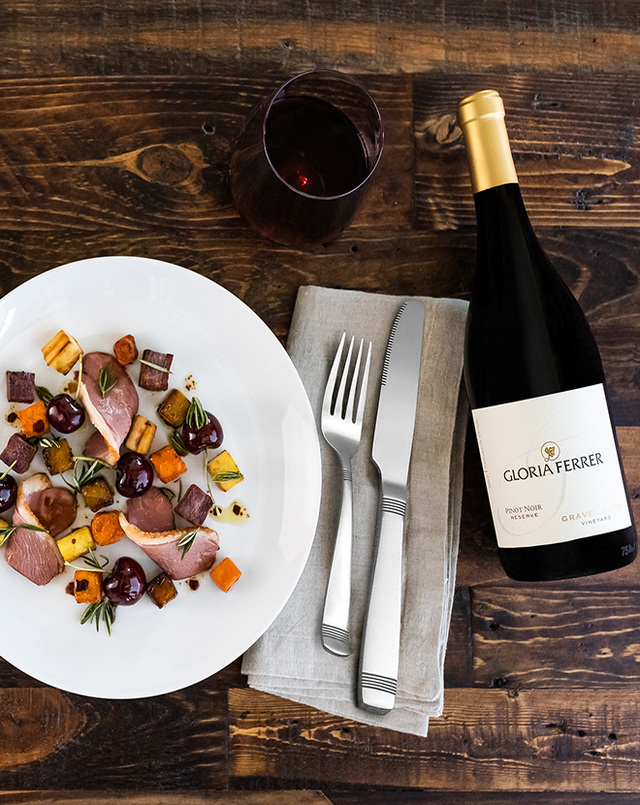 Smoked Duck Breast with Root Vegetables & Pickled Cherries
Pairs with 2017 Gravel Knob Vineyard Pinot Noir. The delightful medley of blackberry and spice on the palate complements the gamey richness of the duck breast and tart pickled cherries.
Ingredients
2 smoked duck breasts, thinly sliced, room temp
2 Yukon gold potatoes, peeled, ½" diced
2 parsnip, peeled, ½" diced
2 carrots, peeled, ½" diced
1 purple sweet potato, ½" diced
2 gold beets, ½" diced
Gloria Ferrer Tuscan Extra Virgin Olive Oil
Sherry vinegar
1 tbsp rosemary, finely chopped
¼ cup parsley, chopped
1 lb. cherries
2 cups red wine vinegar
1 cup water
1 cup brown sugar
1 bay leaf
6 allspice berries
Instructions
Step 1 | Wash the cherries and prick each one on the bottom 3 times with a paring knife. Pack them into a jar. Bring the vinegars, honey, and spices up to a simmer; pour over the cherries to cover. Let cool to room temp, cover and store in the refrigerator for 5 days before using. Keeps for 2 months.
Step 2 | Toss all the root vegetables together with olive oil, 1 tbsp finely chopped rosemary, a splash of sherry vinegar, salt and pepper. Roast on a parchment-lined sheet pan at 425°F until colored and tender. Sprinkle with chopped parsley. Serve warm.
Step 3 | Plate the warm root veg and the sliced duck, garnish with a few cherries and drizzle with a little cherry brine mixed with olive oil.